Stories about Great Lakes coastal communities working towards more resilient shorelines.
Rosewood Beach Sand Nourishment Project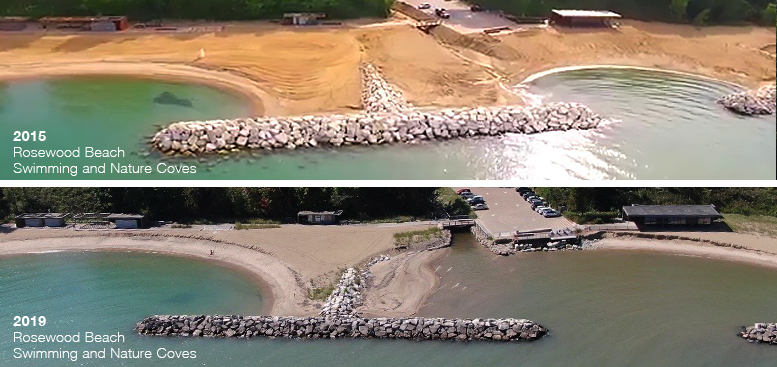 Rosewood Beach in Highland Park, Illinois is a highly used, community asset. Due to the high water levels on Lake Michigan, the beach has experienced severe sand erosion. Despite an offshore, protective revetment, continued erosion could have put park structures at risk. An emergency beach nourishment project was approved by the Park Board of Commissioners to address erosion of the shoreline and swimming coves. This nourishment project was intended to mitigate erosion from the high water levels and severe storms. Before the project began, the beach receded nearly 45 feet. Work on the project began in October 2019.
Visit the Park District's website for more details
.
Village of Sodus Point Community Resilience Model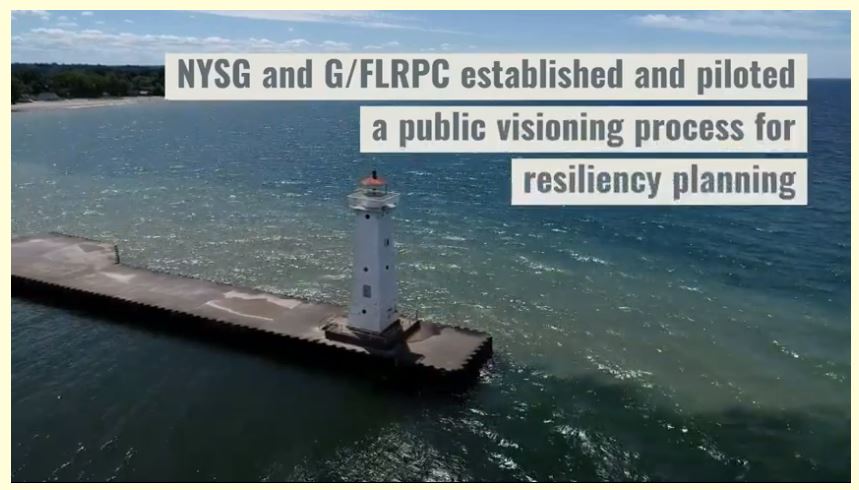 The Village of Sodus Point, NY used a visioning process piloted by the New York Sea Grant and the Genesee/Finger Lakes Regional Planning Council to help their community improve their resiliency to future flooding events. Part of the process included sharing a self-assessment checklist and hosting a public engagement workshop. Together, local residents, Village staff, Village/County department representatives, and topical experts all identified and prioritized actions that would make community assets more resilient to future flooding events. The workshop findings will be used to design rough project concepts with potential funding sources. Visit their website for more details.
Brandenburg Park
Chesterfield Township is in the process of developing shoreline restoration plans for Brandenburg Park which is regarded as "the jewel of Chesterfield Township." The township was awarded a grant from the National Oceanic and Atmospheric Administration to assist with engineering and design fees. Shoreline erosion has led to the degradation of the existing protection structure – a steel seawall. The plans for the park will include transforming the shoreline into a 'living shoreline,' restoring native habitat, creating a protected harbor with a new breakwall, and installing an education station describing the project and habitat.
Euclid Waterfront Improvement Plan
Through a public planning process, the city of Euclid, OH developed a Waterfront Improvement Plan that will provide public access for recreational opportunities, reclaim the City's historic beaches, restore the coastal environment, and become a catalyst for economic investment and area-wide revitalization. The plan is organized in four sections; community vision, inventory and analysis of coastal influences and physical attributes, opportunities for improvement and enhancement, and steps for implementation. Euclid plans to take responsibility for shoreline erosion in exchange for easements that allow public access to the waterfront. Construction began in the fall of 2018 and will be completed in phases throughout 2019.
Visit the City's website for more information and updates.
Milwaukee County Coastline Management Policy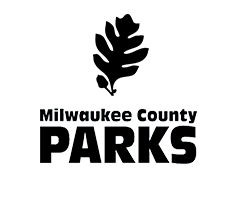 Funding from the Wisconsin Coastal Management Program will enable Milwaukee County Parks to inventory & prioritize the County's coastal resources based on an assessment of the vulnerability of assets along 14 miles of the Lake Michigan shoreline to extreme weather. The coastline is currently impacted by coastal hazards such as high water levels, erosion, and coastal storms. The development of a Coastline Management Policy will assist with reducing shoreline recession, bluff failure, coastal erosion.
New Buffalo Shoreline Alliance
The communities of Sunset Shores, Warwick Shores, Grand Beach and Forest Beach formed the New Buffalo Shoreline Alliance (NBSA) to address property damage and loss of coastal ecology due to severe beach erosion cause by high water levels on Lake Michigan. In partnership with the City of New Buffalo and the New Buffalo township, the NBSA submitted an application for a FEMA Hazard Mitigation Assistance Grant and a Great Lakes Fishery and Ecosystem Restoration Grant to help fund the installation of a series of submerged breakwaters. This project proposal includes an inter-jurisdictional effort that aims to restore the community's beaches, economy, and coastal habitat.
Samuel P.  Meyers Park
The Racine Health Department in collaboration with Parks, Recreation, and Cultural Services and the Department of Public Works implemented a revitalization project at Samuel P. Meyers Park in Racine, Wisconsin. The effort was supported by volunteer involvement and community fundraising. The revitalization included stopping direct stormwater from reaching the shoreline, increasing accessibility to the lakefront, and restoring coastal wetlands. The City also eradicated invasive and other non-indigenous species, and planted more than 30,000 native plants that helped restore wildlife, flora and fauna. This project not only restored coastal habitat and a community resource but helped to increase coastal resiliency.
Read the full story here. For more information and updates, you can also visit this site.
Know a resilient community? Share their story with us!