Each month a different resource or tool that can assess shoreline changes, provide education on resilient practices, or support planning and policy development for coastal communities is highlighted on this page.
---
November 2020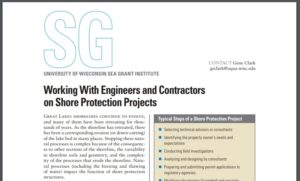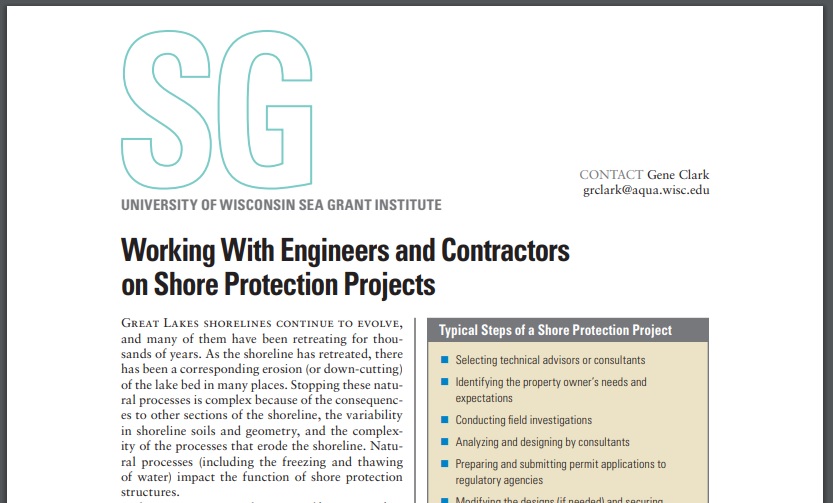 Working with Engineers and Contractors
Working with Engineers and Contractors on Shore Protection Projects is a four-page document that describes the standard procedures of a coastal protection project. In addition, the document highlights the benefits of using an engineering professional or contractor and provides recommendations for finding and choosing a qualified engineering professional or contractor that will fit the needs of the project. It is written for property owners or municipalities to utilize when they are considering a shore protection project. Readers can quickly read and understand the basics of employing an engineering professional or contractor to assist in a shore protection project. Check out the blog to find the link to a free download of this document!
October 2020


The Ohio Coastal Design Manual is put out by the Ohio Department of Natural Resources office of Coastal Management. This manual focuses on design and engineering principles of constructing coastal structures for erosion control. It provides a comprehensive overview of best practices for structure design. However, it is not too overwhelming for the general lakefront property owner. Even though this manual is geared towards engineers, surveyors, and contractors, it can serve as a great resource to bridge the gap between landowners and these experts. It is ideal for the development of a common language and knowledge basis. 
September 2020
    National Weather Service Great Lakes Portal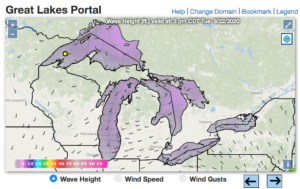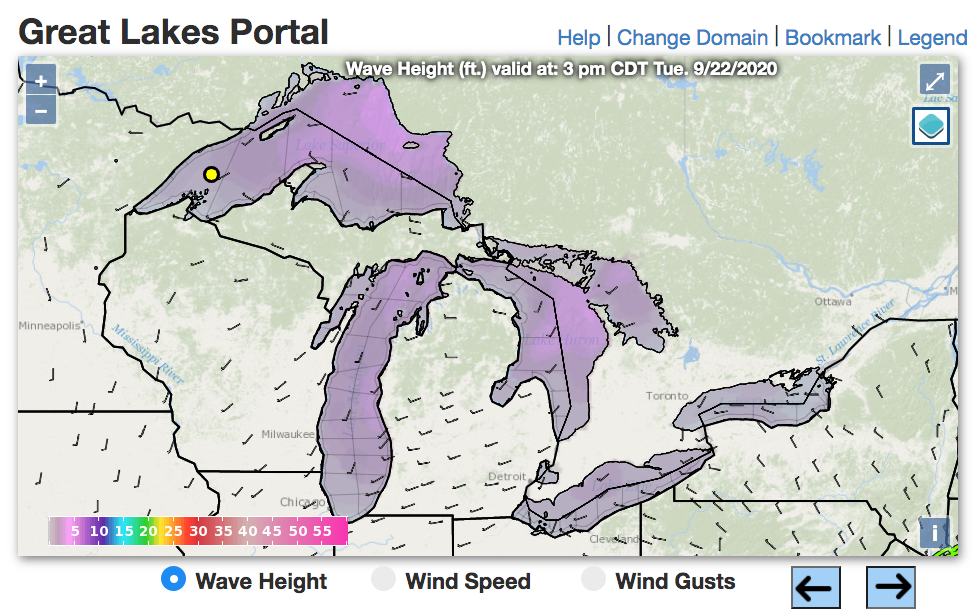 The National Weather Service Great Lakes Portal is an interactive tool for users to explore detailed weather information. This tool is hosted by the National Weather Service (NWS), a subset of the National Oceanic and Atmospheric Administration (NOAA). The landing page of the Great Lakes Portal allows you to see current and forecasted weather and hourly forecasts for up to 6 days in the Great Lakes region. This weather specifically includes wave height, wind speed, and wind gusts. This will be most useful for mariners, researchers, and even the general public because of the map's ability to portray and forecast extreme weather events.
Zooming into the map, the user is able to see more detail depending upon which layers are selected and the level detail provided. Layers include different hazards and risks (active, beach, swim), lightning density, wind direction, ship observations, radar, water levels, among others, all of which can be selected and deselected by the user. 
August 2020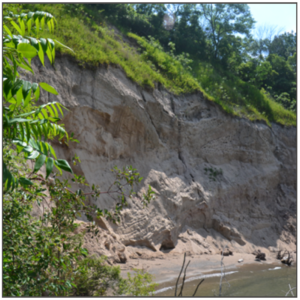 Protect your Home from Bluff Erosion: Fact Sheet
The fact sheet, "When Your Home is at Imminent Risk from Bluff Failure", is put together by the Wisconsin Sea Grant to help homeowners understand when their homes are at imminent risk of bluff failure, what to do about it, and where to get more information. It is a simple 2 pager that lays out the most pertinent information about risk factors, options for repair, and who to contact.
 July 2020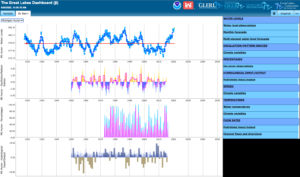 Great Lakes Water Level Viewer
The Great Lakes Water Level Dashboard is a free, online, interactive website that portrays monthly water level information for all the Great Lakes. The dashboard allows users to view water levels, oscillation/pattern indices, percentages, hydrological input/output, speeds, temperatures, and flow rates. This tool is designed to support and be used by anyone interested in better understanding the long-term variations of water levels on the Great Lakes. The data is also updated frequently so users are able to download the most up to date data that is portrayed on the website.
June 2020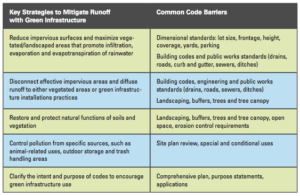 Green Infrastructure Code Audit Workbook
The University of Wisconsin Sea Grant's Tackling Barriers to Green Infrastructure: An Audit of Municipal Codes and Ordinances is a tool for municipalities to use in order to identify codes and ordinances that hinder green infrastructure (GI) placement and suggest language to modify. There are 5 key strategies the workbook focuses on (1) reduction of impervious surfaces, (2) disconnection of effective impervious areas, (3) restoration of natural functions, (4) standards for specific land uses that can generate stormwater pollution, (5) encourage the use of green infrastructure in comprehensive plans, grant applications and purpose statements as the preferred approach to stormwater management.
May 2020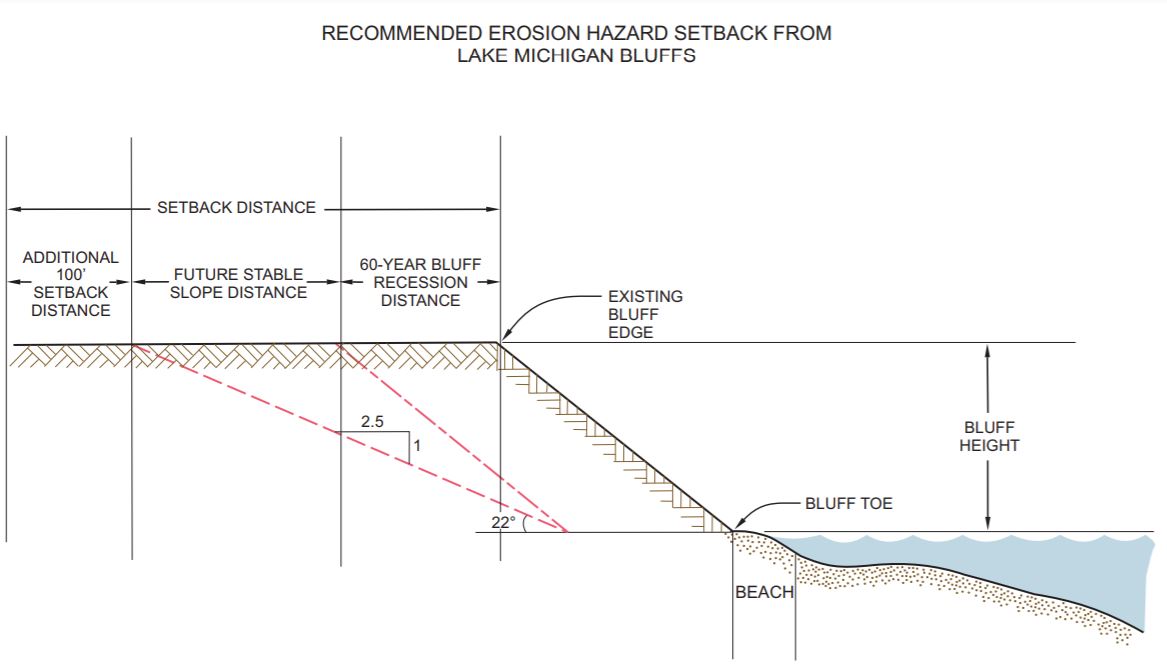 Model Ordinance for Lake Michigan Bluff Setback
SEWRPC's model ordinance details an example community zoning ordinance that could help reduce the risk of developments being exposed to coastal hazards and limit the impacts of those hazards to the shoreline. The ordinance can include provisions on setback distances from the bluff edge for new development or redevelopment, building relocation, vegetation removal, stormwater management, on-site waste disposal, or the use of shore protection devices, as well as requirements for engineering or geotechnical analyses of proposed site modifications that may affect safety or bluff stability. 
March 2020
USACE Great Lakes High Water web page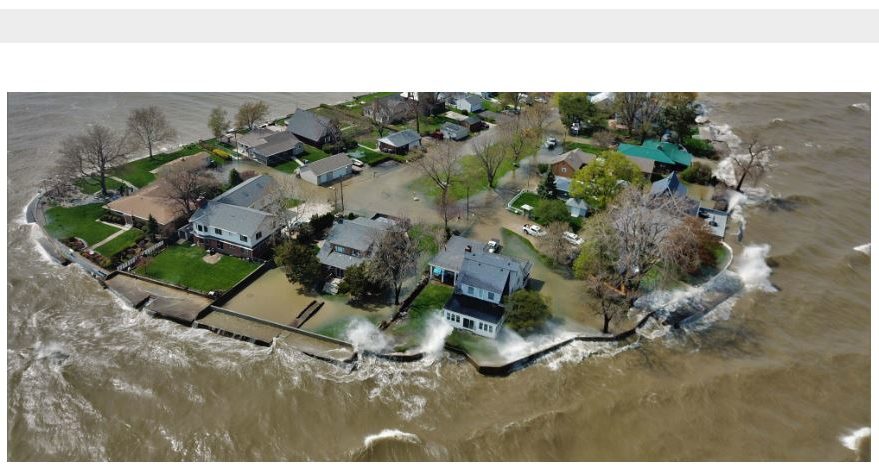 A repository of information compiled to help inform decision-making related to Great Lakes water levels as well as connect people to a variety of informational and planning resources. The web page features four key elements: an FAQ section, informational videos from different offices within USACE, a damage assessment survey, and links to additional resources.
February 2020
The Wisconsin Coastal Atlas is a technology platform that enables people to better understand coastal issues, share coastal data and inform decision-making about sustainable use of the Great Lakes.The atlas includes five elements: maps, catalog, tools, learn and topics. The atlas serves as a gateway to interactive maps and decision support tools relevant to Great Lakes management and provides access to place-based learning resources about coastal issues in Wisconsin. 
January 2020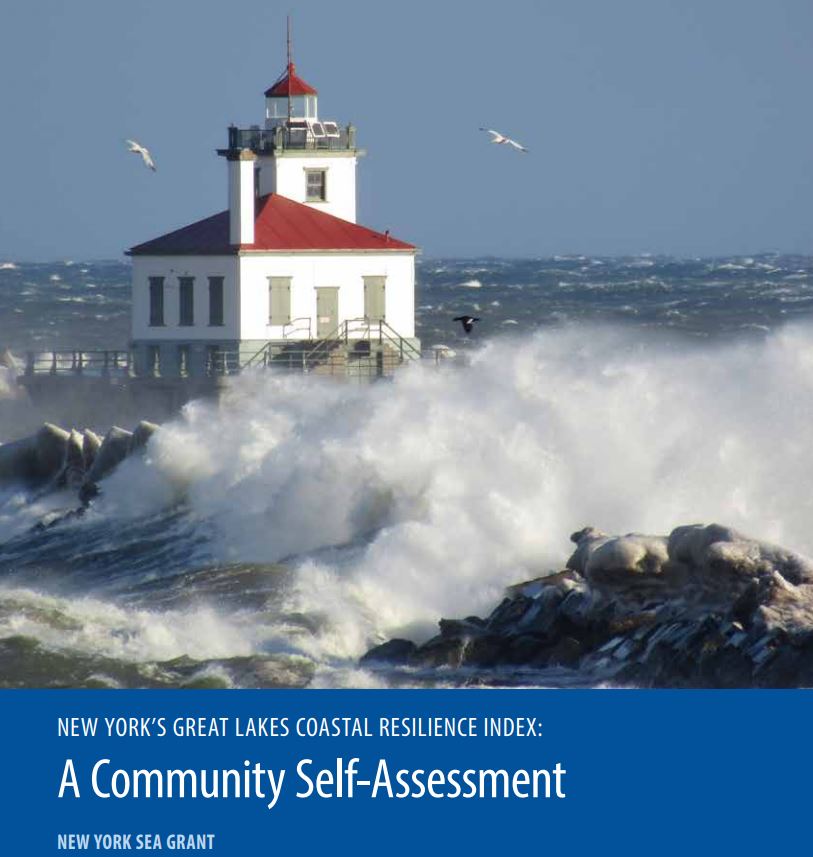 NYSG Great Lakes Coastal Resilience Index
New York's Great Lakes Coastal Resilience Index is a self-assessment tool developed by the New York Sea Grant Institute to bring community leaders together and provide them with a simple method for identifying areas in which their community can be more resilient to coastal hazards such as coastal flooding and weather disasters. A "yes" or "no" question format helps community leaders investigate vulnerabilities across six sectors: critical facilities and infrastructure, transportation issues, community plans and agreements, mitigation measures, business plans, and social systems.
December 2019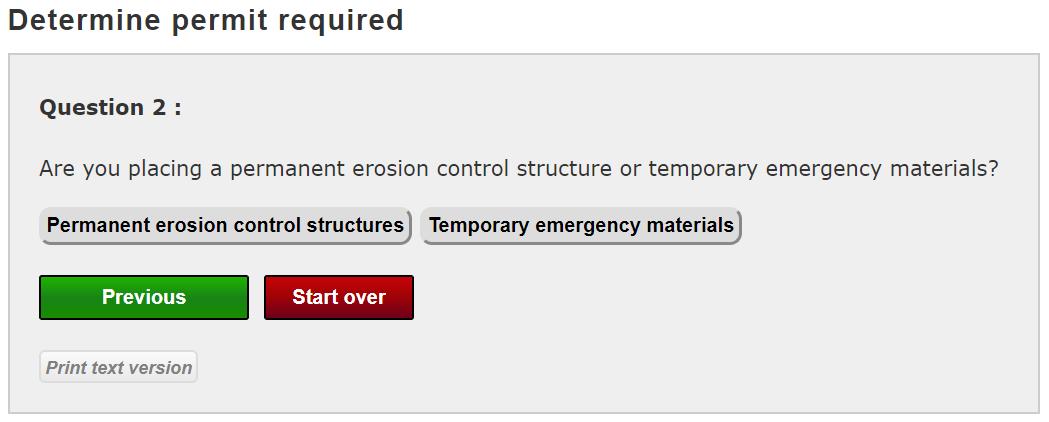 Great Lakes Emergency Erosion Control Self Certification
The Self Certification is a streamlined temporary erosion control placement authorization process intended for emergency situations on Great Lakes shorelines. This process was established to allow homeowners to protect their properties from imminent risk without permitting delays. 
November 2019
Great Lakes Coastal Shore Protection Structures & Their Effects on Coastal Processes
This fact sheet discusses the different types of shore protection and their impacts on coastal processes. This document is written for a broad audience and is intended to help users develop an understanding of Great Lakes coastal processes and how coastal structures can impact coastal processes so that they can make informed decisions when choosing an engineered solution.
October 2019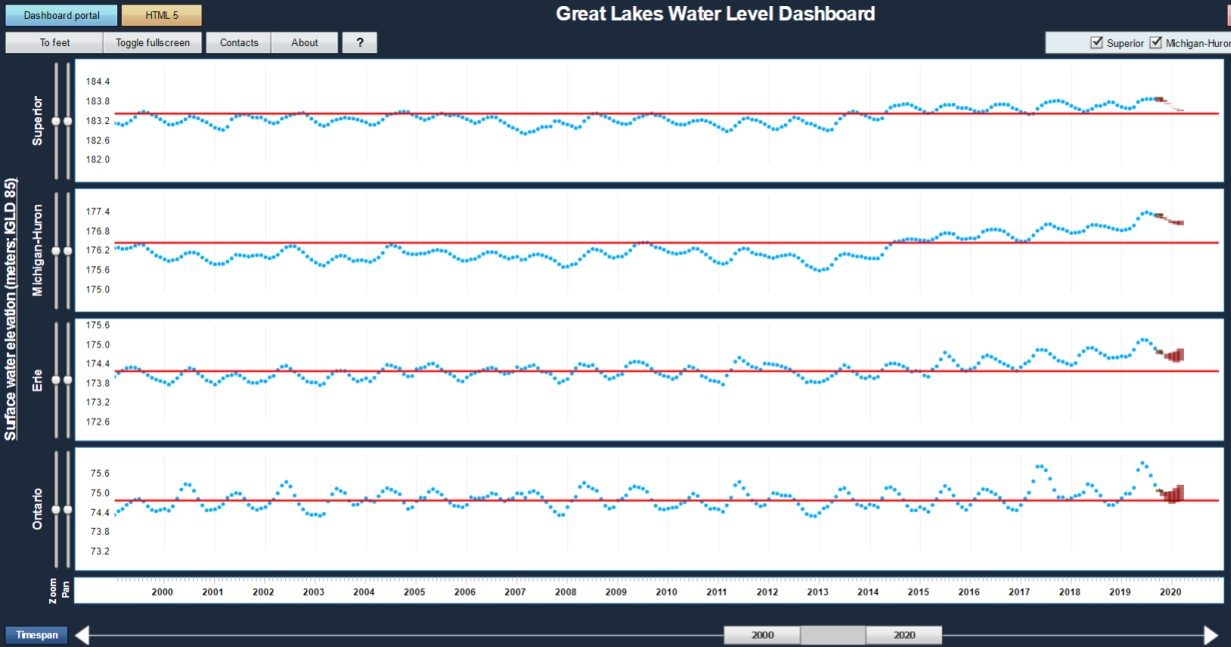 Great Lakes Water Level Dashboard
This online, interactive dashboard of monthly water level data for each of the Great Lakes is designed for users to easily examine the fluctuation of the Great Lakes water levels and forecasts at a variety of time scales. The dashboard also includes references for all data, forecasts, and data products.
September 2019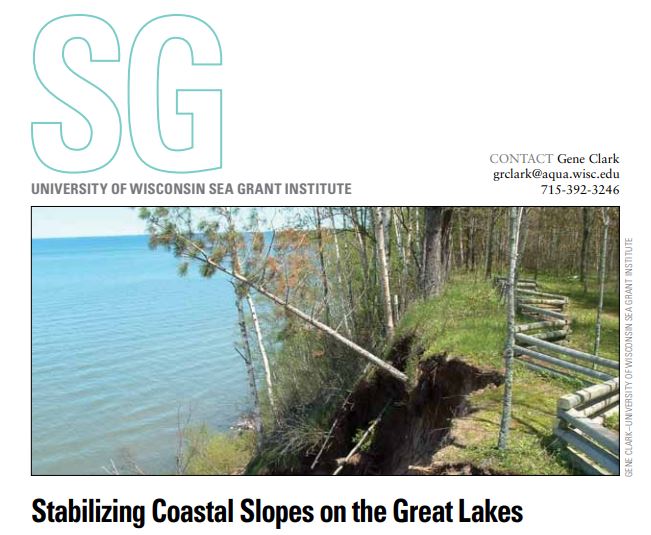 Stabilizing Coastal Slopes for the Great Lakes
This publication discusses topics including visible indicators of erosion and slope instability, management of surface water and groundwater, evidence of soil creep, improving slope stability, and determining a safe setback distance to help users make informed coastal management decisions. The publication also has a list of references to additional information about each topic.
August 2019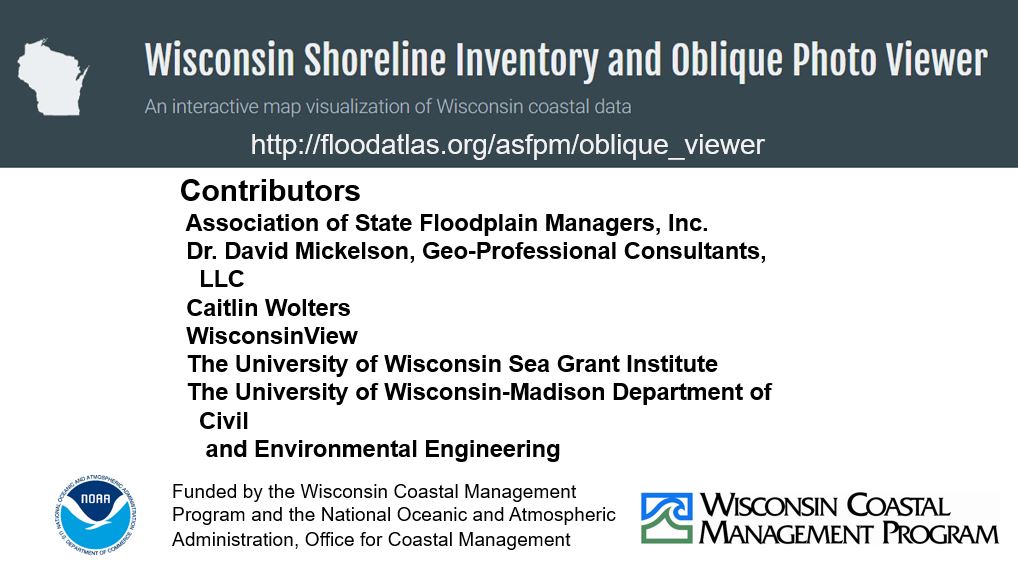 Wisconsin Shoreline Inventory & Oblique Photo Viewer – Featuring NEW Bluff Recession Data
This interactive map has been updated to be both a qualitative and quantitative inventory of shoreline conditions on Wisconsin's Great Lakes coasts. Watch our tutorial to learn how to navigate the map and use the photos, shoreline condition inventories, and recession information to identify and prioritize areas for coastal management.
July 2019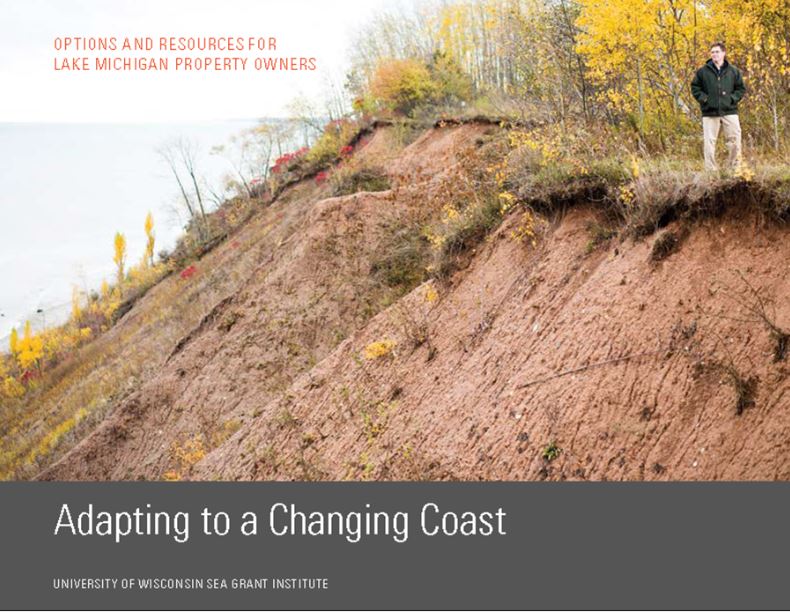 Adapting to a Changing Coast (for Property Owners)
Adapting to a Changing Coast for Property Owners is a booklet that provides property owners with options and resources for responding to the changing bluff and beaches of Lake Michigan. This document presents options, rather than prescriptions, that property owners in Southeast Wisconsin could consider to address coastal hazards. 
June 2019
The Lake Level Viewer is a web-based, interactive map used to help users visualize potential Great Lakes water level changes and impacts. The map allows users to pinpoint areas of concern for flooding and heavy erosion in addition to showing potential flooding projected pictures of local landmarks to help officials, and citizens, determine where their community is most vulnerable.
May 2019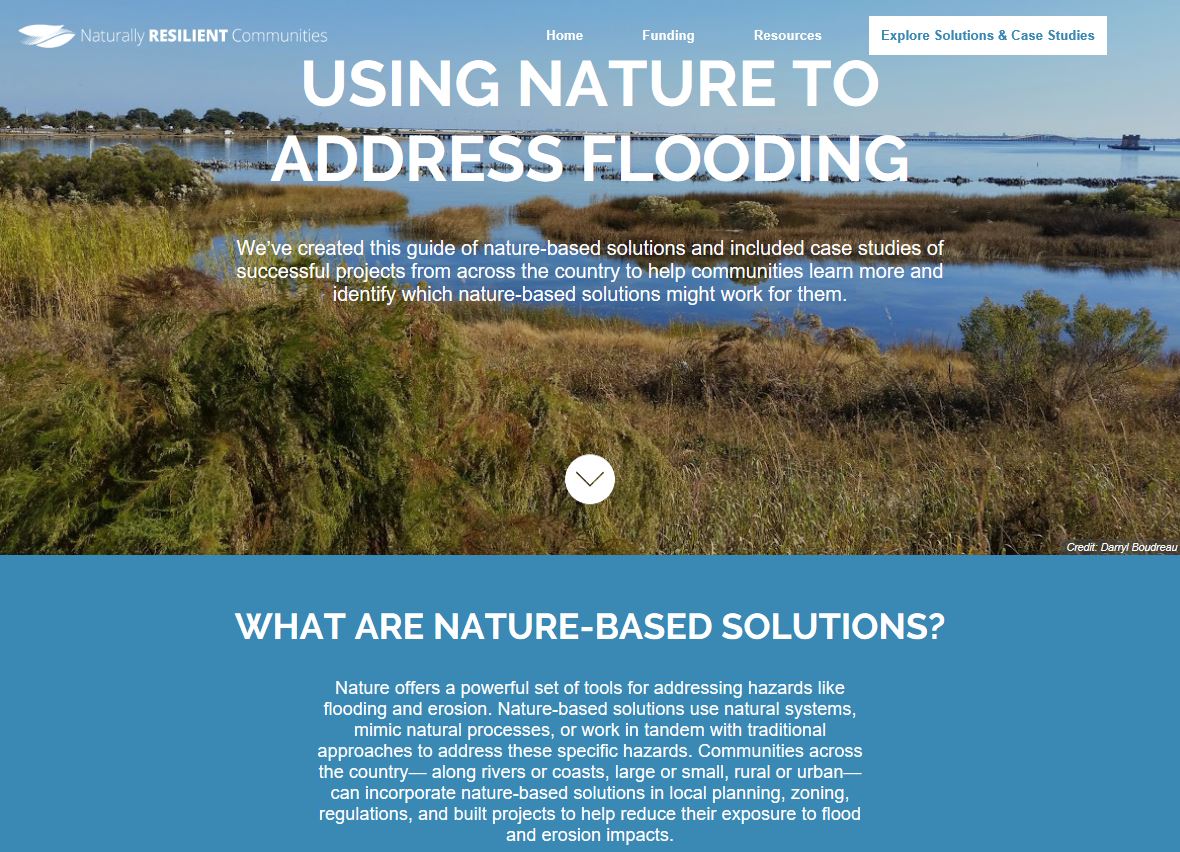 Naturally Resilient Communities
Naturally Resilient Communities is an online guide about nature-based solutions to various coastal hazards. This guide generates a suite of nature-based infrastructure approaches that are specific to the user's environment and type of issue trying to be addressed such as stormwater flooding or erosion control.
April 2019
Vegetative Best Management Practices
Vegetative Best Management Practices: A Manual for Pennsylvania/Lake Erie Bluff Landowners is a handbook that provides technical assistance to Lake Erie property owners affected by shoreline erosion and bluff recession. The manual provides recommendations about using vegetation to stabilize coastal bluffs and counteract erosive forces.
March 2019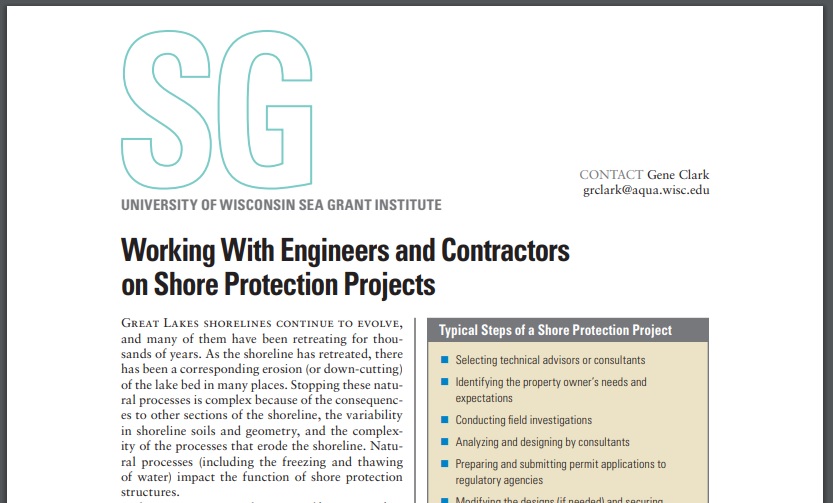 Working with Engineers and Contractors
Working with Engineers and Contractors on Shore Protection Projects is a four page document that highlights the benefits of using an engineering professional or contractor and provides recommendations for finding/choosing a qualified engineering professional or contractor that will fit the needs of the project.
February 2019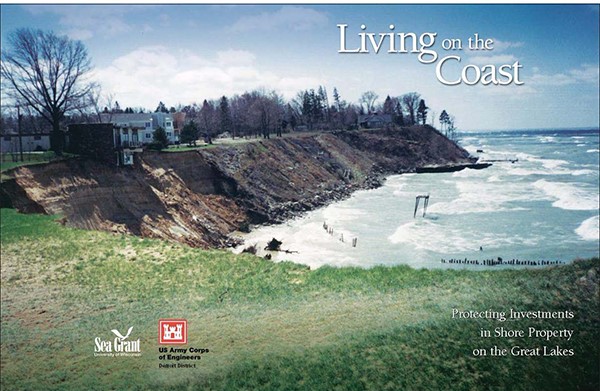 Living on the Coast: Protecting Investments in Shore Property
This booklet provides a brief description of the Great Lakes' coastal environment as well as recommendations regarding bluff stabilization, controlling surface waters and groundwater, and building sustainable shoreline protection structures. Considerations are included to help engage professionals in implementing long-term stabilization solutions.
January 2019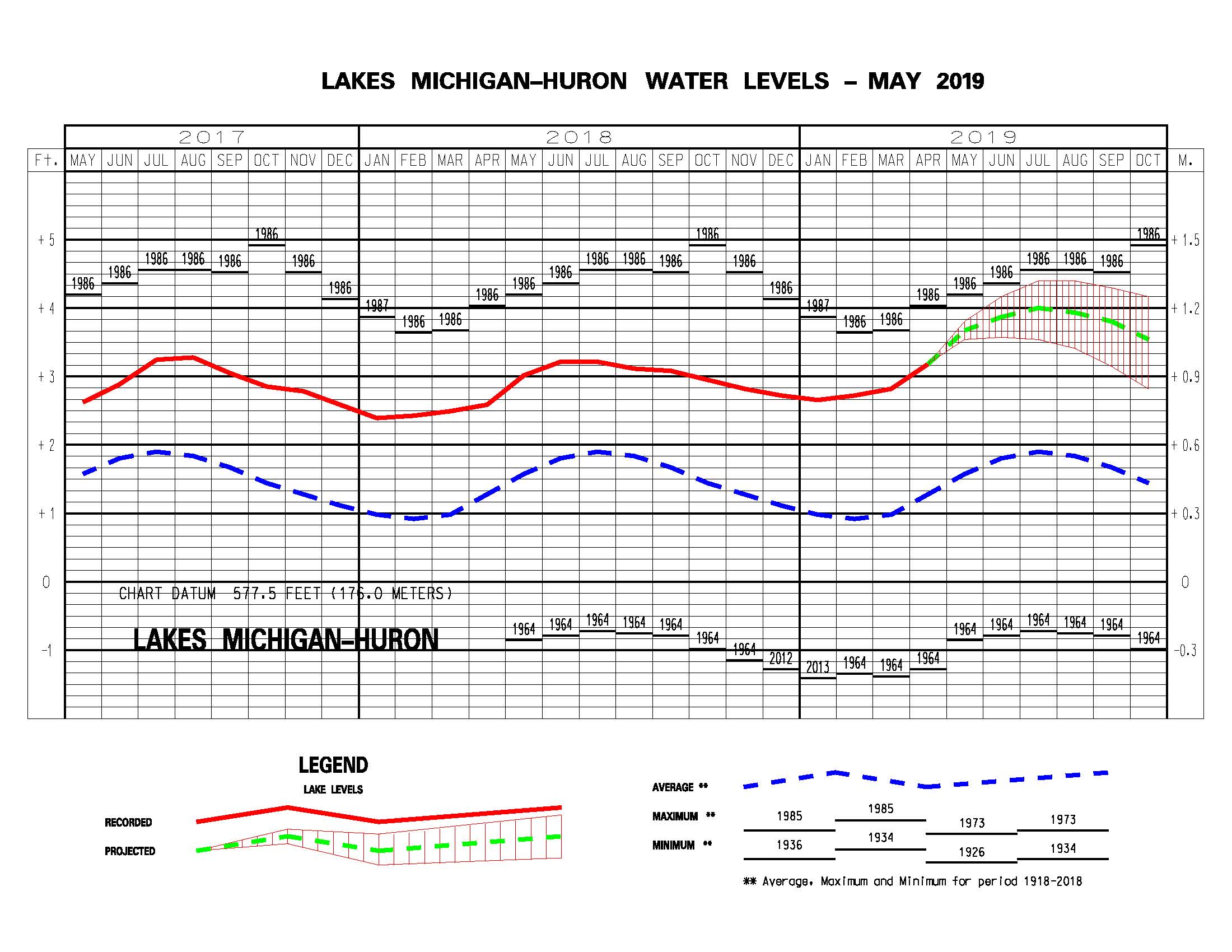 USACE Month Bulletin of Great Lake Water Levels
Published monthly as a public service, this bulletin shows recorded Great Lakes lakes levels from previous and current years, a projection for the next six months, and average and extreme lake levels from 1918 to 2017. In addition to the online figures, the full monthly bulletin, available as a .pdf, provides an explanation of the Great Lakes Basin hydrology for that month.
December 2018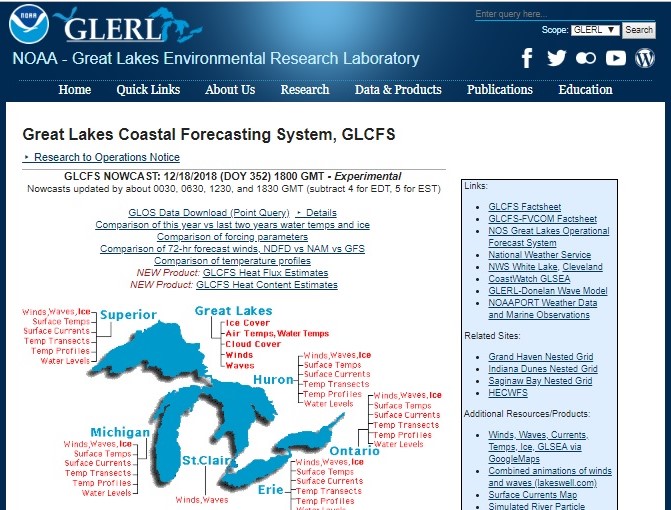 Great Lakes Coastal Forecasting System
The Great Lake Coastal Forecasting System (GLCFS) is a set of online models that predict Great Lakes surface water conditions. 2-D and 3-D web-based maps of lake currents, temperature, wind, waves, ice, and more are available to help users better understand the effects of these conditions on Great Lakes coasts. Users can see current and future surface water conditions on each Great Lake by using the Nowcast and Forecast models.
November 2018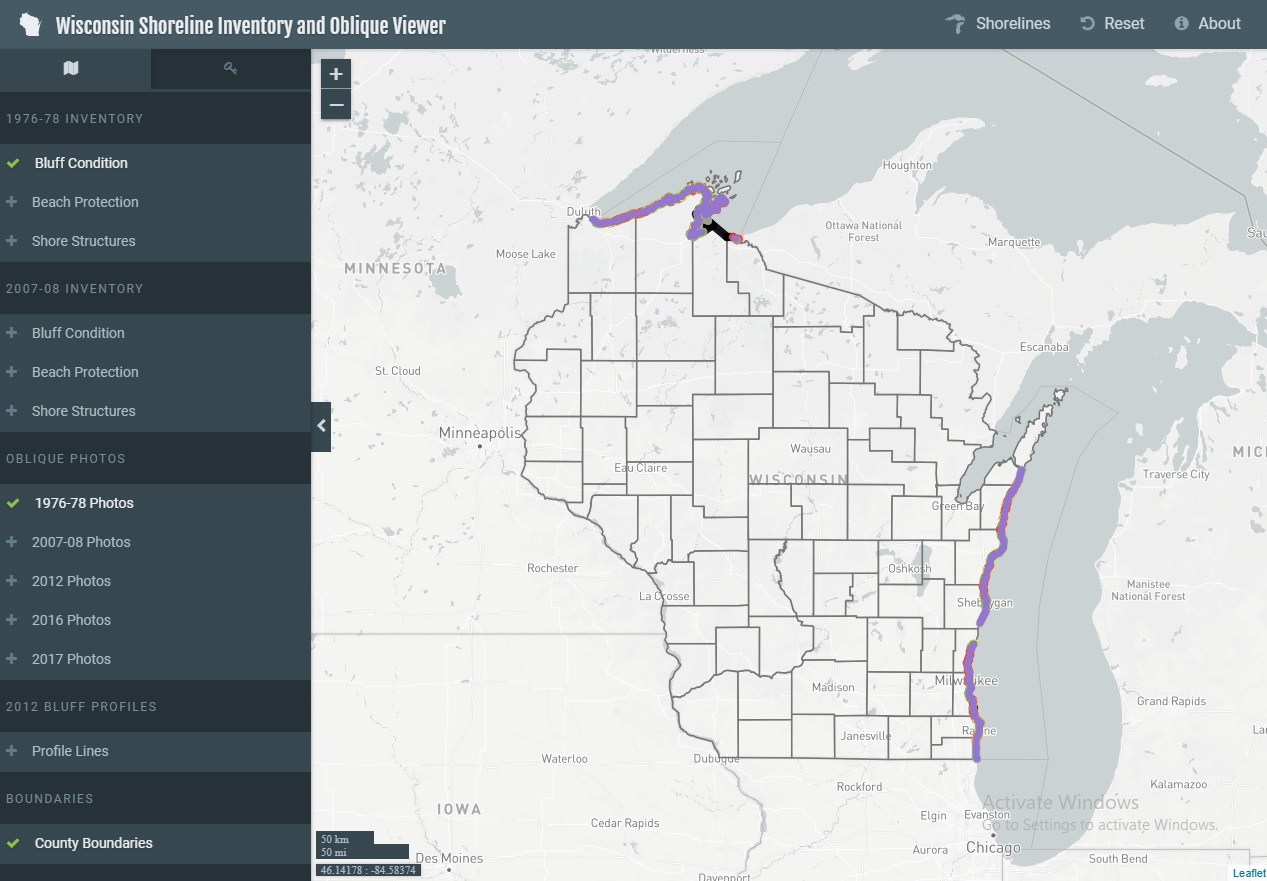 Wisconsin Shoreline Inventory and Oblique Photo Viewer
The Shoreline Inventory and Oblique Photo Viewer is a web-based, interactive map of Wisconsin coastal data that enables users to visualize the temporal changes to Wisconsin's shorelines. This map is a qualitative inventory of shoreline conditions. Users can click anywhere on the shoreline to learn more about its classification.