February 2019
Living on the Coast: Protecting Investments in Shore Property on the Great Lakes
Living on the Coast: Protecting Investments in Shore Property on the Great Lakes is a booklet about living and working on the coasts of the Great Lakes. The booklet was co-published by the U.S Army Corps of Engineers, Detroit District and the University of Wisconsin Sea Grant Institute under grants from the National Sea Grant College Program, National Oceanic and Atmospheric Administration, U.S. Department of Commerce, and the State of Wisconsin. Inside this 50-page booklet is a brief description of the Great Lakes' coastal environment as well as advice about how to protect coastal investments. Recommendations are made regarding bluff stabilization, controlling surface waters and groundwater, and building sustainable shoreline protection structures. In addition, considerations are included to help users engage designers, engineers, and contractors in implementing long-term stabilization solutions. Moreover, a section that addresses risk management and the economics of protecting coastal investments covers shore property features and value, government regulation, costs of implementing shore protection, and considerations for climate change. Finally, the booklet also includes a list of additional resources and a glossary of coastal engineering terminology.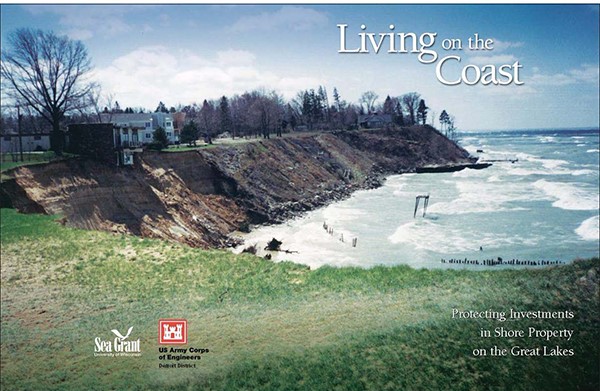 Audience & Decision Support
This booklet is a decision support tool to help those interested in investing in a coastal property make informed choices. This booklet is also intended to be a resource for realtors, bankers, insurers, appraisers, regulators, developers, engineers, marine contractors, or other professionals who influence coastal development.
The Living on the Coast booklet is no longer formatted as a "help yourself guide." Each section of the booklet – the description of coastal processes, how to protect coastal investments, the impacts of shore protection structures, and risk management and the economics of protecting coastal investments — are included to help users make informed investment, management, and policy decisions as well as understand when, why, and how to engage engineers and contractors in long-term, sustainable shore protection planning and projects.